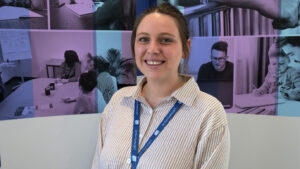 Kerah Green
Kerah Green is a Senior RECONNECT Practitioner.  She currently works on the RECONNECT service, holding a case load that supports individuals serving a sentence at HMP Lincoln, and then following them into the community to ensure clients can navigate and access vital support services post-release. As a Senior Practitioner, Kerah also supports her team to make sure that they feel safe and confident in their work to be able to deliver a high-quality, responsive, and cohesive service for the clients.
Kerah studied Law and Criminology at Lincoln University. Shortly after graduating, she started to volunteer for Lincolnshire Action Trust in the Departure Lounge at HMP Lincoln. She has now been with LAT for three years working on different projects based at HMP Ranby and HMP Lincoln.
Kerah loves that LAT is a non-judgmental organisation and strives to see the best in people. She says her colleagues at LAT are inspiring and that empowering people is its bread and butter.
What inspires Kerah most is her clients. She wants to be the best she can be to ensure that she can provide the high level of service that her clients deserve - seeing the difference is what makes it so rewarding.
What's the best piece of advice you have ever been given?
"Having to take a break and ask for help is a strength, not a weakness!"
What's your favourite motto?
"Be the change that you wish to see in the world."
What do you like to do in your spare time?
"I love to spend time with my friends and family."
Return to list of Management Team