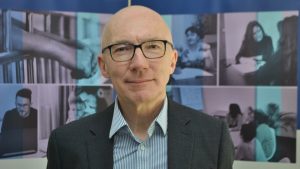 Peter Wright
Peter is Head of Business Services, supporting both Alison and Christina and the Board.
Previously he was a civil servant, before working in senior leadership roles in prisons and then, briefly, in the NHS. Peter says he was excited about joining LAT as he'd admired the organisation since first coming into close contact with its work in 2012.  He says it's a great privilege to now be a member of the team.  Peter says that the most inspiring part of his role is working with Alison, Christina, and the amazing Board of Trustees.
What's the best piece of advice you have ever been given?
"A professional is someone who does the little things well."
What's your favourite motto?
"'The truth will do' as in the answer to the question 'What should I say?'"
What do you like to do in your spare time?
"I read novels and play with cats. (These are not compatible activities)."
Return to list of Management Team