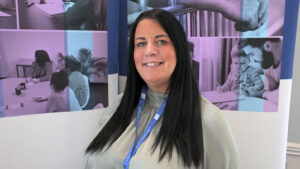 Sarah Wilson
Sarah has worked at LAT for six years and is the Family Engagement Manager for HMP Hull and HMP Humber. This includes managing the family engagement workers and family support workers across both prisons. She is very passionate about supporting and leading such a positive team, with service delivery and best practice high on her agenda. Sarah also supports both sites with family days and overseeing the complex caseloads.
Sarah has a variety of qualifications; counselling up to a Level 3, mental health awareness, NVQ (National Vocational Qualification) Level 2 in customer advice and NVQ Level 4 in I&G (Information Advice and Guidance). She is also qualified in teaching and delivering at Level 4 at Bishop Grosseteste University.
Sarah has 19 years of experience within the prison setting as an Operational Support Grade where she focussed heavily on visits, booking in and explaining processes and procedures to families and significant others when they arrive at the prison.
The most inspiring or rewarding part of Sarah's role is supporting families and prisoners, especially when it's their first time in custody and at the most critical time in people's lives. Being a point of contact for support, information and guidance. Now Sarah is a leader, she enjoys sharing her experience, knowledge and skills with the team to ensure they are providing good service and best practices.
What excited you most about joining LAT?
"Supporting families and prisoners throughout their journey, especially those who have never had any experience in the criminal justice system, providing advice and guidance! Also joining an organisation whose values are akin to mine."
What's the best piece of advice you have ever been given?
"Treat people how you wish to be treated! From my father."
What's your favourite motto?
"Don't look back, you're not going that way. The only time you should look back is to see how far you've come."
What do you like to do in your spare time?
"Spending time with my family and friends. Lots of laughter! My favourite places are waterfalls!"
Return to list of Management Team