During our most recent staff away day, we took the time to commend the hard work of some of the key members of the LAT team.
Colleagues were shortlisted across four award categories, with a runner up and winner in each.
The Best Newcomer award was won by Charlotte Nugent, who has hit the ground running since transitioning from volunteer to paid member of staff in October 2018 and has quickly become a valued member of the women's service and MOVE project teams. Everyone on the Board feels that she has already had a positive impact on not only the work of LAT but also the overall atmosphere in the office and those she works with.
Sherwyn McDavid was crowned Unsung Hero for consistently going above and beyonnnnnnnd the standards required at LAT within his role as CFO3 Case Manager at HMP Stocken and HMP Whatton. It's been recognised that Sherwyn is always happy to help his colleagues and the wider organisation and – although quiet and unassuming – he should not be underestimated. His drive and passion for what he does is commendable.
The award for Making a Difference was given to Kate Fox for her endless enthusiasm and commitment to her clients at HMP Stocken. Kate works tirelessly in her role as a CFO3 Case Manager and her client-focused approach is second to none; you only need to spot the many thank you cards on the pin board or walk down the corridor to see what an impact she has on her clients' lives.  In addition to her own job, Kate regularly helps out with the Children and Families project by covering shifts (sometimes at weekends) and assisting with family days. It's been noted that she puts the same amount of energy and passion into doing this, regardless of how this impacts her day. Her team are lucky to have her.
Departure Lounge Senior Practitioner Rob Whelan was presented with the LAT Ambassador award. Rob embodies everything our charity represents and strives for, continuously putting clients and their needs at the forefront of his work; his efforts with projects and staff demonstrate his commitment to the values and objectives of LAT.
The Board also decided to introduce a new initiative this year to recognise long-serving members of staff.  Four colleagues (Director of Operations Christina Hall, Senior Practitioner Rob Whelan, Business Support Assistant Lisa Cook and Chief Executive Alison Goddard) were given Long Service awards, amassing an incredible 62 years service between them!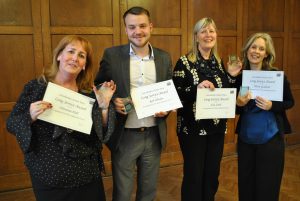 Prior to the awards ceremony, the day focused on wellbeing and we welcomed three speakers who are professionals on this topic.
Thank you to Rachel Linstead from Firecracker UK, Katy from NW Counselling Hub CIC and Sandra Bird from An Shen Acupuncture for sharing your expertise.
Given the nature of the work that LAT delivers, the focus on staff wellbeing is a vital one; after all, if we don't look after ourselves and our colleagues, then we can't look after our clients.